The Consumer Handbook on
Dizziness & Vertigo
by Dennis Poe, MD, Editor
(Auricle Ink Publishers, approx 340 pages, Feb/2005)
Hardcover: $29.95
Book Summary:
Dizziness and vertigo are among the 25 most common reasons Americans visit the doctor— accruing more than 5 million physician visits each year in the U.S. According to studies from the National Institutes of Health, 42% of the population (90 million Americans) will complain to their doctors of dizziness at least once in their lifetime. The cost of medical care for patients with balance disorders in the U.S. is estimated to exceed $1 billion annually, yet it's one of the most poorly understood maladies in America. This Handbook answers an essential need to better understand this dreaded condition, one which in its worst state is completely disabling.
Dr. Poe has brought together the most distinguished ear, nose and throat physicians, surgeons and rehabilitation therapists each writing a chapter within their own specialty. It is destined to be a classic resource for anyone suffering from this malady. Every reader can benefit as if privately consulting with each specialist. There's a wealth of information and knowledge available, including causes from stress or head trauma to tumors. It reveals potential diagnoses, treatment options, the impact of medication regimes, surgical and non-surgical alternatives including traditional and nontraditional options, and details on the many tests you could undergo in the process of being assessed for dizziness or vertigo.
Much of the anxiety associated with this chronic problem can be alleviated just by knowing the facts provided in this book.
Author Bio:
Dr. Poe earned his medical degree from SUNY Syracuse, his residency in otolaryngology-head and neck surgery at the University of Chicago, and a subspecialty fellowship in neurotology with the Otology Group in Nashville, Tennessee. He is a full-time faculty member in the department of Otology and Laryngology, Harvard Medical School and Children's Hospital of Boston. He is also on staff at the Massachusetts Eye and Ear Infirmary. He has published a number of scientific research articles and patient information writings on medical and surgical treatments for Ménière's disease.
The Consumer Handbook on Dizziness & Vertigo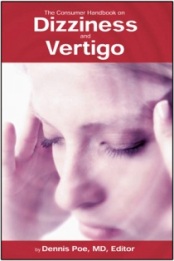 ISBN: 978-09661826-4-4
Hard Cover Only
Price $29.95