Children with Hearing Loss—A Family Guide
Edited By David Luterman D. Ed.
(Auricle Ink Publishers, 200 pages, May/2006)
Softcover: $16.95
This book was written for parents, siblings and extended family members who want a better understanding of the impact hearing loss can have in their young loved one. Hearing loss in children can have more devastating effects than in adults because it can impair the ability to learn vocabulary, grammar, word order, idiomatic expressions and other aspects of verbal communication. This book is a guide on how to address the most important educational issues and processes through the school years, including legal rights and legislation. It also addresses the profound emotional impact hearing loss can have on a child and how it can affect the entire family dynamic, and what to do about it.
Readers can even prevent some of the pitfalls common among families new to a child with hearing loss. This book also covers the latest technology available to these children, especially in the classroom, including assistive listening devices, hearing aids and cochlear implants. It dispels myths associated with wearing amplified devices and explains how families can give these children the proper tools that will empower them for life.
Specific topics include:
The emotional aspects of hearing impairment

The impact of hearing loss on the family

Hearing aids and cochlear implants

Listening as a gateway to learning in the classroom

What parents should know about the educational system
Author Bio:
Dr. Luterman is Professor Emeritus at Emerson College in Boston and Director of the Thayer Lindsey Family Centered Nursery for Hearing Impaired Children. He has dedicated his career to developing a greater understanding of the psychological effects associated with hearing loss and the caregiver role. Dr. Luterman teaches professionals to understand the emotional responses of parents as they come to grips with the hearing loss of their child. He has lectured extensively on counseling and has authored a number of books on the subject matter of hearing loss in children. Joining him in this wonderful book for consumers are Linda Thibodeau, Ph.D., Karen L. Anderson, Ph.D. and Cheryl DeConde Johnson, Ed.D. also highly qualified, well-published audiologists and experts in the field.
Children with Hearing Loss
A Family Guide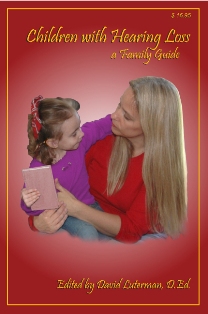 ISBN: 978-09661826-5-1
Soft Cover
Price $16.95
Out of Print
Effective
January/2017