Introduction
Welcome to your new experience! For some, it might be a strange new land. For others who have trekked here before, perhaps little may seem new (though I bet there are some good surprises even for the most experienced wearers). Some readers will have reached this point in their lives by first having been through a lot of inconveniences, annoyances, perhaps even a particular critical point which led to the realization of needing hearing help. Others may have found their way here as a result of tortuous relationships, isolation and a build-up over years of embarrassing situations that may have even reached its boiling point. Either way, in most cases, this has taken years before you have sought help. Whether you found your way to this first page casually or got pressured into it, there awaits a lot of hope on the horizon.
When we explore new territory, it's always wise to have a guide. So please allow me the honor of being your guide on this tour. I bring a lot of experience with me, and as well, the sincerest desire to help you. I will have some interesting, informative and perhaps even some exciting ideas for you, especially if this is your first time through the territory.
Whenever you explore new territory, you always want to bring along certain items in preparation. This particular journey is no different. You will need to bring along open mindedness, a willingness to change how things have been, a stick-to-it attitude, and a desire to commit to a higher quality of life. And like the good explorer you are, you'll want to leave some things at home, like prejudgments, negativity, and extra baggage with compartments filled with anger, frustration or hostilities.
By the end of this journey in only thirty days, I expect you will have discovered a greater sense of yourself, more independence, perhaps higher self-esteem, less anxiety, and gladly, a greater desire to socialize. The net result of better hearing is many improved relationships, especially among those you love and those who love you—and you might also expect increased intimacy that comes from enhanced communication, clearly a basis for the deepest partnerships we have. And while my part of this journey stops at thirty days, if you choose to keep your hearing aids, as most people will, you will have the confidence to continue on this path independently.
It is my hope as your guide for the first 30 days that you will honestly report that your life has changed for the better. Bear in mind each day as you proceed through this booklet that putting hearing aids on is not the end of it, but the beginning of a process toward better hearing. I will point the way, but you must do the exploring, the inner work, the changing. I trust you can do it!
Good luck!
Jess

Hearing Aids:
The first 30 days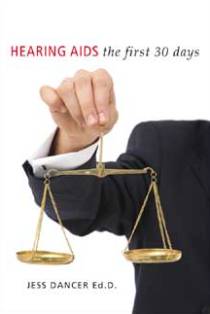 ISBN: 978-09661826-6-8
Price: $14.95